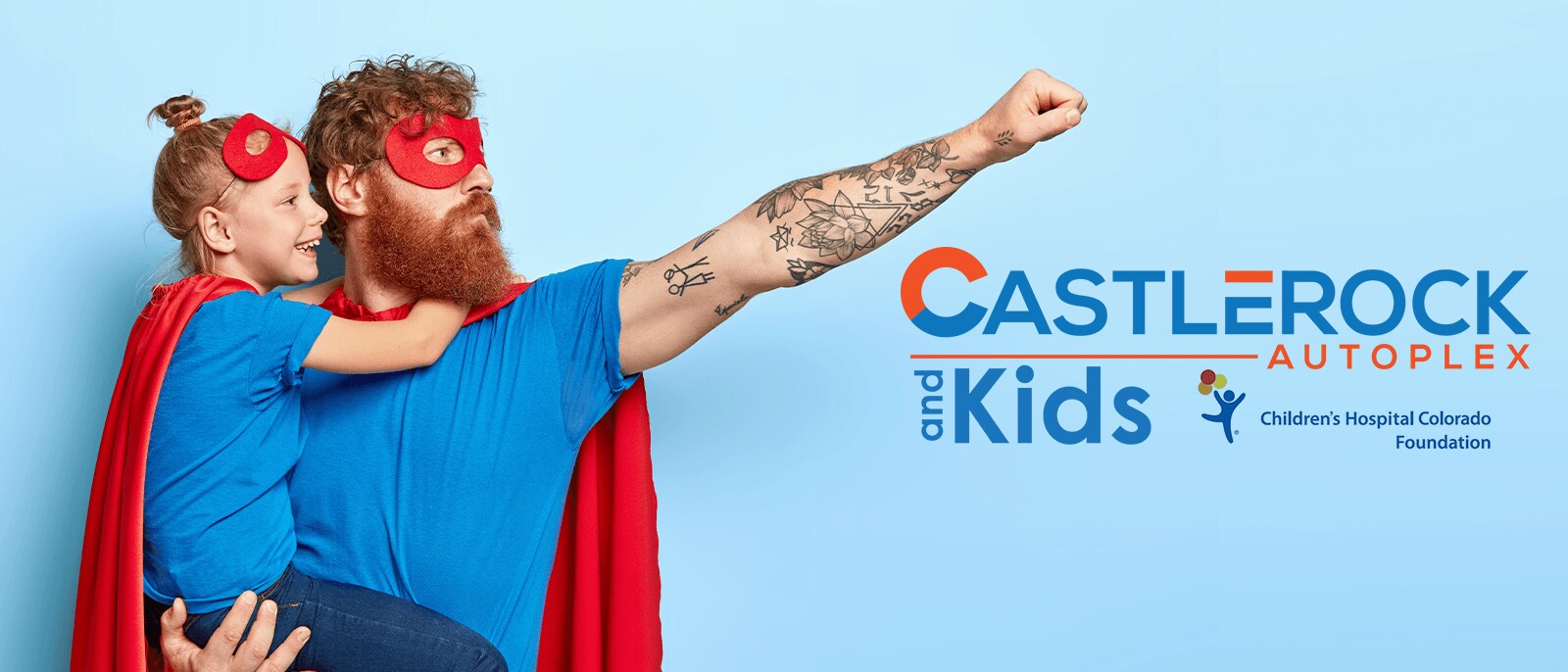 World-Class Care, Fueled by Giving.

$46,750 Raised so far!
As a non-profit, Children's Colorado began because the community came together, and it continues to be supported by the community. Our work is fueled by giving to the Children's Fund.

Serving the Greatest Needs of Patients and Families
Effective October 1, 2020, Castle Rock Autoplex will donate $10.00 per vehicle sold to Children's Hospital Colorado Foundation.
Our donation goes to the Children's Fund, which helps the hospital address the greatest needs of our patients and families and directs funds toward where they can do the most good. By giving to the Children's Fund, Castle Rock will help make an immediate and lasting difference in every aspect of care that patients receive.

Unrestricted gifts provide Children's Colorado with the flexibility to allocate resources in the most strategic way possible.
Just as health care providers in their emergency department triage patients based on the severity of their illness or
injury, their team uses the Children's Fund to respond quickly to the most urgent priorities throughout the hospital's healthcare system, ensuring kids and families have the tools, resources, treatments and services they need to heal.
Castle Rock and Kids
What Children's Fund Donations Support

Family-centered services
- Helping kids continue their education while recovering from traumatic injuries through our
hospital school services, the Medical Day Treatment Program
- Easing children's fears by providing teaching dolls and therapists, called Child
Life specialists, to explain how procedures will work
- Improving kids' inpatient experiences with art, music, dance and
movement, and yoga therapy sessions, through the Ponzio Creative
Art Therapy Program
- Reducing families' suffering by providing a grief counselor for
children's terminal or life-ending diagnoses
- Giving patients a break from their hospital rooms or distracting
them in their rooms with singing and dancing on Children's
Colorado's multimedia studio and radio station, Seacrest Studios
Groundbreaking research
- Supporting scientists who are conducting cutting-edge research
advancements
- Advancing physicians' innovative approaches to treatment and care
- Enabling physician-scientists to hire research assistants to accelerate their
laboratory's search for cures
- Providing seed funding for young investigators to generate the data needed to secure larger
government research grants
- Investigating how virtual reality can be empirically shown to reduce pain in kids

Regional clinics and care
- Helping patients be treated closer to home so they feel more comfortable and secure
- Decreasing the stress on families, by reducing parents' travel and time away from work to visit
caregivers who manage a child's chronic condition
- Making it easier for friends and family to visit patients while they heal at one of our regional
locations, distracting them from their injury or illness

Patients and families in financial need
- Assisting families who travel hundreds of miles for their child's care with lodging and meals
- Subsidizing care for patients and parents in need, because all kids and families deserve access to
health care
- Enabling the hospital to purchase life-saving vaccinations for families who cannot afford them